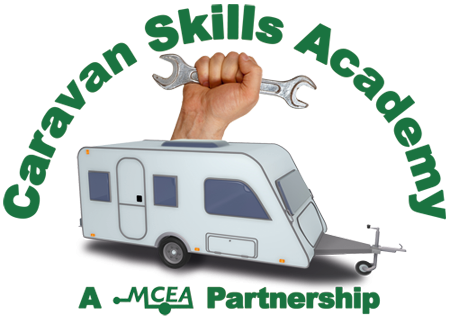 Caravan Skills Academy
Dedicated to the training and development of Caravan and Motorhome Service Engineers and Technicians, either workshop based or mobile

A well trained technician can have a direct effect on your business by being:
in partnership with:

Proficient, uses best practice for doing things
Efficient, gets it done first time
Safe, minimises or removes risk of injury or damage
Being proficient, safe and efficient, your technician contributes to your cost effectiveness and service levels and profitability. Being cost effective with high service levels are essential to successful business development. A satisfied customer will not only come back but will tell his friends about you. Customer retention and referral is how you grow your client base.
Trained staff are happier and stay with you longer thus reducing the long term training costs. CSA foundation courses get your technicians trained on how to do things correctly and effectively and help you to develop your business. Technicians trained by CSA have access to a superb network of technical support.
As a small business investing in training with CSA, you can gain access to the technical and marketing support of the national network enjoyed by CSA & MCEA for individuals and businesses engaged in caravan servicing and repairs. Including further training opportunities, parts supply, warranty repair agreements and national marketing via magazines, TV and exhibitions.
For further information, costs, course availability and booking details or if you simply want an informal discussion on how CSA can help your business please contact CSA, details as above.
Let us not underestimate the skills set required to be a good Caravan or Motorhome technician. They will:

Work on LPG gas systems but they are not a gas engineer
Work on mains electrics but they are not an electrician
Work on 12 volt electrics but they are not an auto electrician
Work on water systems but they are not a plumber
Work on furniture but they are not a cabinet maker
Work on exterior body work but they are not a panel beater
Work on brakes etc but they are not a motor mechanic
In all of the above disciplines they need to work on the caravan or motorhome to at least the standards of the gas engineer, plumber or electrician etc. The skills set required for caravan or motorhome servicing are extremely diverse. The CSA foundation course will get your technician started correctly on all of the above disciplines with emphasis on customer care, caravan respect and personal safety!
At CSA we are passionate about caravans and motor caravans, servicing and the touring industry.